Share the post "Kenya's energy transition risks being derailed by human rights failures"
Integrating human rights into renewable projects will make the energy transition fairer and faster.
The global transition to net zero could not be more urgent. UN head António Guterres articulated this in dramatic terms at the COP27 climate talks in Egypt last month, telling world leaders that the planet is "on a highway to climate hell."
To mitigate the situation, the green energy transition has been gathering pace around the world. Across the continent of Africa, there has been a rapid growth of investment in renewable energy projects. But the crucial issue of human rights is being left off the agenda, and this is threatening the success of the transition.
The issue is particularly relevant for Kenya. The country already generates more than 70% of its power from renewable energy sources, and has recently received a commitment from the UK to support further expansion of renewables.
The risks of ignoring human rights
In June 2022, research by the Business & Human Rights Resource Centre, the organisation I work for, explored allegations in Kenya of human rights abuses linked to renewable energy installations. It found evidence of loss of livelihoods, violations of land and water rights, and failures to respect the rights of indigenous communities. It is no coincidence that the companies involved in these projects frequently lack human rights policies.
There have been cases in which communities' land rights have not been respected and local people have not been given adequate information about how a renewable energy project might impact their livelihoods; in other words, a failure to fulfil the right to free, prior and informed consent. According to community leaders, these projects often fail to provide any benefits to the local communities they displace, leaving them energy poor as their local resources are used to benefit those living in major cities.
Such failures frequently result in delays and suspensions to renewable projects which, in turn, cost businesses time and money, and risks derailing the transition to net zero.
Projects should ensure communities are treated as shareholders, not just stakeholders
One such instance was seen at the Lake Turkana wind project in north-west Kenya. Africa's largest wind power project found itself embroiled in a court case with the community. Local people claimed the lease for the land was issued without adequate consultation, remuneration or lease procedure and had resulted in a loss of livelihoods for the pastoral communities in the area. The court ruled in their favour.
In 2016, the 60.8 megawatt Kinangop wind power project was cancelled following resistance from local landowners over the compensation they had received for their land, arguing the turbines would cause health issues forcing them to sell their land down the line. Members of the local community were hurt during subsequent protests, with one person reportedly killed. The project ultimately failed, and attempts by investors to claim compensation from the International Court of Arbitration were also unsuccessful. This demonstrates the financial risk human rights issues can cause for investors and companies when ignored.
A fairer and faster energy transition
Time and time again we have seen community protests lead to project delays and ballooning costs that have real consequences for investors, including the indefinite postponement of renewable projects. Land-related grievances form the highest percentage of complaints by local communities about renewable energy projects in Kenya. A high number of cases have involved people feeling they lack information about a project on their land. In instances where communities have been dissatisfied with how projects have been implemented, we often found considerable delays to projects and financial loss.
There is an immediate and urgent need for renewable energy investors to improve the human rights policies and practices of portfolio companies. Primarily, this must involve fostering better relationships with local communities and developing opportunities for shared benefit at the outset of a project. Projects should ensure communities are not treated just as stakeholders, but as shareholders who must see positive returns on investment in their land and livelihoods.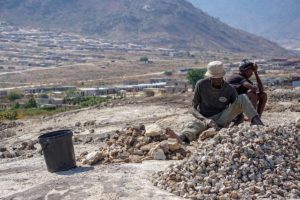 RECOMMENDEDIn Zimbabwe, an aborted quarry shows need for community consultation
Good models of better business practice are emerging. When local communities raised concerns about the proposed Akiira geothermal power plant near Nairobi, the company met with them and resolved the issues before heightened conflict had the chance to cause substantial delays or harm. One wind power generator, Kipeto Energy, entitles local landowners to a percentage of the gross revenue from the turbines on their land. Meanwhile, other companies are working to ensure local communities have access to energy developed by renewable plants.
Investing in projects that respect human rights is no longer just the moral thing to do. As the disruptions mentioned above suggest, it is financially prudent too.
There is a fast-shrinking window of opportunity to build a rapid and fair energy transition, toward a renewable energy sector that respects and promotes human rights. This can only happen if companies and investors take active steps to embed human rights policy and due diligence practices across their value chains. This must include an explicit respect for indigenous communities and a focus on substantial co-benefit models with communities and workers. Without a human rights-based approach, the transition to renewable energy is in grave danger – as are the climate goals we so desperately need to meet.
This article was originally published by China Dialogue https://chinadialogue.net/en/energy/kenyas-energy-transition-risks-being-derailed-by-human-rights-failures/